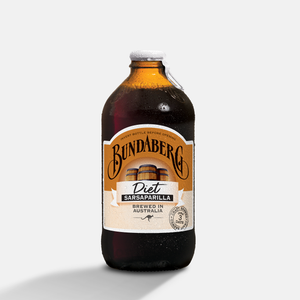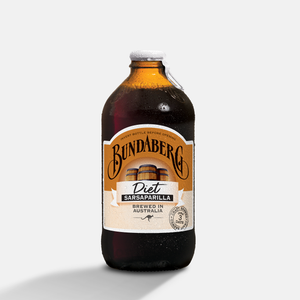 On Sale
Diet Sarsaparilla 375mL x 24
Brewed over 3 days using a genuine family recipe including sarsaparilla root, ground ginger, liquorice root, vanilla bean and molasses. Bundaberg Diet Sarsaparilla has the same great taste as the original with less sugar.
Be sure to invert the bottle before opening to disperse the real ingredients for optimal enjoyment.
Brewed over 3 days
Australian family owned
Best enjoyed chilled
Brewed in Bundaberg
Ingredients
Carbonated Water, Cane Sugar, Sarsaparilla Brew (Water, Sugar, Molasses, Ginger Root, Sarsaparilla Root, Licorice Root Extract, Vanilla Bean Extract, Yeast), Colour (Caramel IV), Acids (Malic Acid, Citric Acid), Flavours, Preservatives (202, 211) Sweeteners (951, 950, 955), Antioxidant (Ascorbic Acid), Stabilisers (412, 15). Contains Phenylalanine.
Contains 1.7% sugar from fermentation.
Nutrition
Servings Per Package – 1
Serving Size – 375mL
| | | |
| --- | --- | --- |
|   | Ave. per 375 ml | Ave. per 100 ml |
| Energy  | 124kJ | 34kJ |
| Protein | Less than 1g | Less than 1g |
| Fat – total | Less than 1g | Less than 1g |
| Fat – Saturated | Less than 1g | Less than 1g |
| Carbohydrate – Total | 7.2g | 1.9g |
| Carbohydrate – Sugars | 6.4g | 1.7g |
| Sodium | 42mg | 11mg |